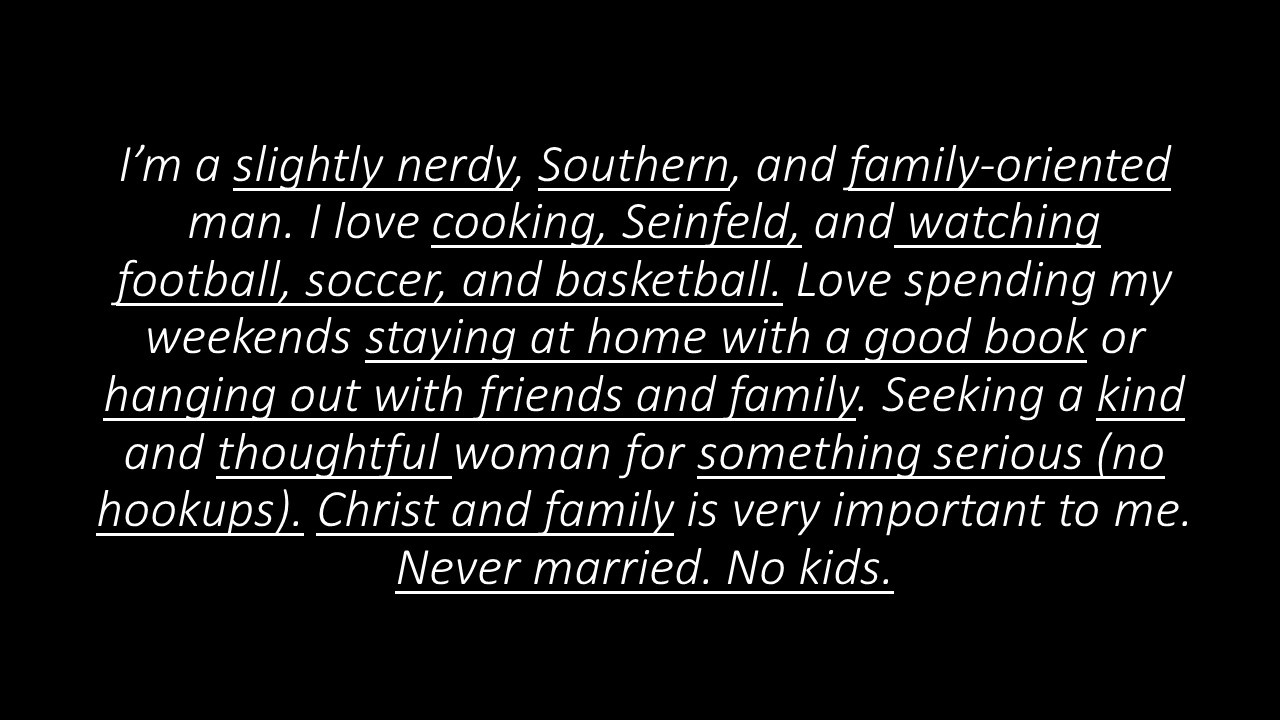 Having a good online dating profile as a man is like having a good resume. You need it to be good, accurate, and descriptive, but it doesn't have to be 100% perfect. Like a recruiter, a woman is going to look at your profile for 3-6 seconds before she decides whether to swipe right or left.
Your dating profile just needs to be good enough to catch a girl's attention. The most important thing is that you don't leave your online dating profile blank! To get a girl's attention online, you need to have good pictures. After you've secured the date by picking a time and a place, it's all about selling yourself in person.
At a loss for words for what to put in your online dating profile? No worries. I have an online dating profile template to use.
Online Dating Profile Template for Men
Time for some Mad Libs! Here's a dating template for you guys:
I'm an adjective, adjective, and adjective man/guy/gentleman. Love interest #1, interest #2, and interest #3. Love spending my weekends list activity and list activity. Seeking an adjective and adjective woman for what you are looking for. Activity is very important to me. Marriage status. Kids' status.
Why does this dating template work?
This template works because it covers the basics. It provides the woman information about you and your interests. It lets her know whether she is what you are looking for. It gives her an idea of activities that the two of you could do over the weekends, and it covers potential deal breakers.
Wondering how this looks in real life? Below are 5 somewhat real-life online dating profile examples. I've taken these from real men's dating profiles on Bumble and changed the names, merged profiles, and added information (I got creative!) as needed to fit the template.
Online Dating Profile #1: Josh, Licensed Social Worker (age 31)
I'm a slightly nerdy, Southern, and family-oriented man. I love cooking, Seinfeld, and watching football, soccer, and basketball. Love spending my weekends staying at home with a good book or hanging out with friends and family. Seeking a kind and thoughtful woman for something serious (no hookups). Christ and family is very important to me. Never married. No kids.
Dating Profile Example #2: Derik, Management of Sales (35)
I'm an educated, sports-loving, and active man. Love the outdoors, kayaking, and Atlanta United. Love spending my weekends checking out festivals and exploring different restaurants. Seeking a career-focused and active woman for dating (not looking for hookup). Physical activity is very important to me. Father to an amazingly smart and beautiful 4-year old girl.
Example of Good Online Dating Profile #3: Luke, IT Manager (37)
I'm a thoughtful, down-to-earth, and sometimes active man. Love bowling, movies, and good conversation. Love spending my weekends checking out breweries and local festivals. Seeking a food-lover and emotionally available woman to take on dates to local museums and art exhibits. No kids. No previous marriage.
Short Dating Profile Example #4: Charlie, Graphic Designer (28)
I'm a laid-back, respectful, and goal-oriented man. Love telling jokes, making people feel comfortable, and creative activities. Love spending my weekends writing and drawing. Seeking a woman who also loves video games and movies for dating. We'll get along if you like video games too. Never married. No kids.
Online Dating Profile Example #5: TJ, Film/TV Mixer (32)
I'm a family-oriented, intellectual, and artistic gentleman. Love coffee, good wine, and fine dining. Love spending my weekends hiking, going to theater shows, and being with family. Seeking a woman who is also a Devotee of Christ and interested in politics for long-term relationship. Church is very important to me. Never married –but seeking marriage. No kids, but want them.
Curious About What NOT to Say?
Want more dating tips for men? Subscribe to my newsletter to get notified of upcoming articles. I'll be posting one soon with things that EVERY guys puts in his dating profile, which doesn't help you differentiate yourself.
Good luck getting more swipes!
Warm wishes,
Christina Marie