Cheap Date Ideas!
Does coronavirus have you stuck at home? Are you searching for cheap date ideas at home? Are you searching for a shelter in place date night idea? Or do you happen to live in Atlanta (like me!) and want a cheap date idea in Atlanta?
Continue reading for 10 FREE and Cheap Date Night Ideas.
Date Ideas Covered in This Article Include
Cheap date ideas in Atlanta
Cheap date ideas at home
Cheap date ideas that are indoor
Cheap date ideas to do at night
Covid date ideas for married couples
Coronavirus date ideas
Covid date ideas that are outside
(This post may contain affiliate links. Read my full disclosure here.)
10 Cheap and Coronavirus-Friendly Date Night Ideas in Atlanta, At Home, Outside, and at Night
1. Take a Hike for an Outside Daytime Date
Now is the perfect time to take a leisurely drive to a local park or hiking trail. Go on a hike with your date and enjoy the warm weather and the sunshine.
If you have just started to date someone, check out this Dating Snippets YouTube video for tips to have a successful hiking date.
Cheap Date Ideas in Atlanta
If you live in Atlanta, check out the East Palisades trail with your date. It's close to the city and my favorite hiking spot.
My friend Danielle is also a big fan of Arabia Mountain. Check out the Dating Snippets YouTube video where she shares the details!
2. Explore a Local Neighborhood as a Cheap Date Idea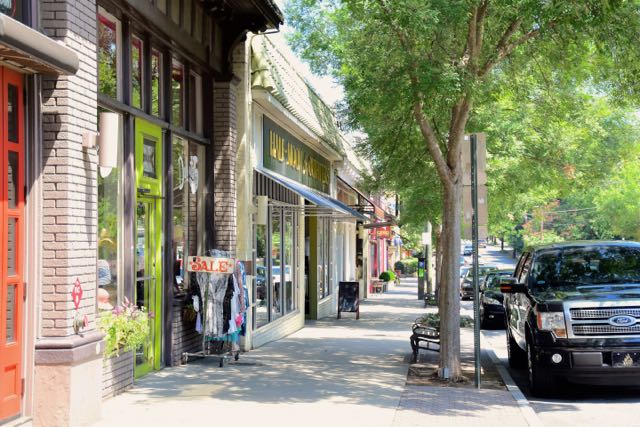 Do you tend to stay within a 5 mile radius of your home? I know that I do!
Venture outside of your local neighborhood and check out surrounding neighborhoods with your date. Drive to a cute neighborhood and walk around, or go on a long bike ride.
Outdoor Date Ideas in Atlanta
If you live in Atlanta, here are a few neighborhoods to check out.
Virginia Highlands: This is my favorite neighborhood in Atlanta. Check out the free little book libraries outside of the homes.
Morningside: The houses here are cute! Many homes have fun stuffed animals hiding in the windows, or fun decorations in the yard if you search.
Buckhead: The homes here are grand and lovely! Daydream about living in one of the most expensive parts of town.
Cabbagetown: This is a cute little artsy neighborhood.
3. Read Each Other's Horoscope for a Date at Home
Horoscopes tend to be highly inaccurate (in my opinion!), but they can be fun. Google each other's horoscope or astrological sign and talk about how accurate (or inaccurate!) it is.
4. Be Kids at the Park (a SAFE Covid Date idea!)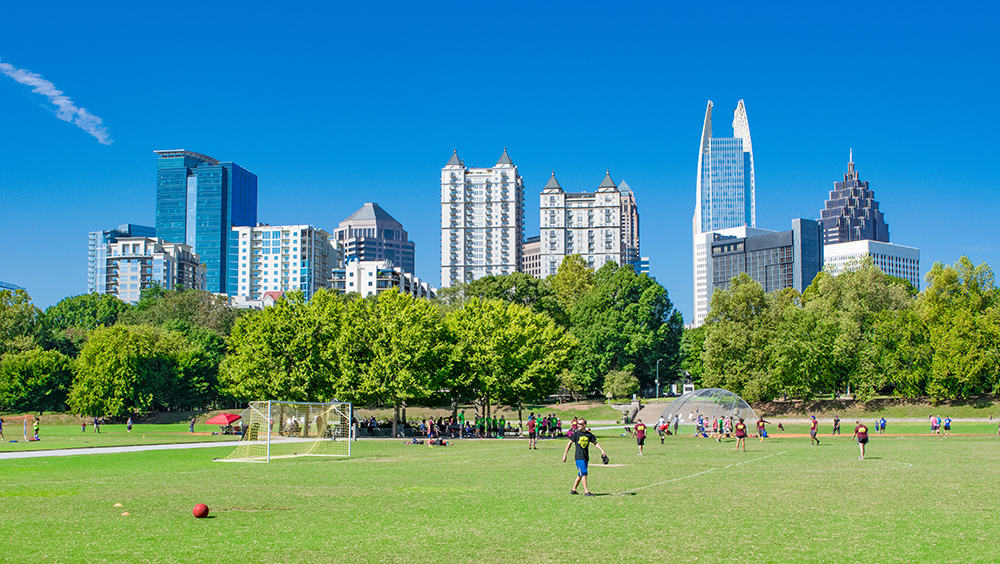 Who says you can't be a kid? Be silly at the park and have fun! Toss a Frisbee back and forth, find a bocce ball court and challenge each other to a game, or find another couple and play Spikeball.
You can buy a set of Spikeball from Amazon here.
5. Have a Premium Movie Night for an Indoor Date
Movie theaters may be closed (unless you live in Atlanta!), but who says you can't have a premium movie night at home?
Order a move on Amazon Prime or Netflex and get cozy with your date. And why not live it up? Get some premium popcorn, ice-cream, and snacks to enjoy while you're at it.
Essentials for a Successful Indoor Date Night Watching a Movie
6. Pack a Picnic for a Casual Outdoor Date Idea
Choose a sunny Saturday or Sunday afternoon and go on a picnic for a cheap outdoor date idea! Pack olives, crackers, cheese, sandwiches, water, and a big blanket.
If you don't have a picnic blanket now is the time to get one. It's useful to have one for festivals, music concerts, and beach days in the spring and summer.
Here's my pick for an outdoor picnic blanket: Machine-Washable and Foldable Picnic Blanket
Outdoor Date Ideas in Atlanta
If you live in Atlanta, grab food at the Trader Joe's at 931 Monroe Dr NE and then have your picnic in Piedmont Park.
7. Play Old School Video Games for a Covid Date Night
Remember the days of playing Zelda and Mario Cart? If it's a rainy night, why not pull out the old-school games and play video games?
8. Challenge Each Other in Rummy 500
Before TV and cell phones, people used to sit around and actually talk to each other. When they ran out of things to talk about, they played cards!
Learn how to play Rummy 500 and play it for a free date idea.
9. Play Croquet in Your Back Yard
Croquet was one of my favorite games to play as a kid, and I still love it now! My married friends play it ALL the time when they have guests over.
10. Have a Deluxe Breakfast Together for a Date Idea (Great for Married Couples!)
You don't need to go to a 5-star restaurant or wait until you are in Hawaii to have a deluxe, romantic breakfast. Order food from Whole Foods the night before, and have it delivered to your door the following morning.
Below is what I'd recommend for an indoor, romantic, and (relatively!) cheap at-home date.
Deluxe At-Home Breakfast Shopping List
Want More Date Ideas?
Want more date ideas? Like the Dating Snippets Facebook page to be notified of upcoming articles, and follow Dating Snippets on Instagram for weekly dating tips.
Enjoy your date-nights!
Christina Marie from Dating Snippets
Connect with Dating Snippets
Leave a comment below too!
Please subscribe to the Dating Snippets YouTube Channel!
Subscribe to Dating Snippets on YouTube
Follow the Dating Snippets Facebook page to get notified of new posts.
(This post may include affiliate links. View the Dating Snippets affiliate disclosure here).