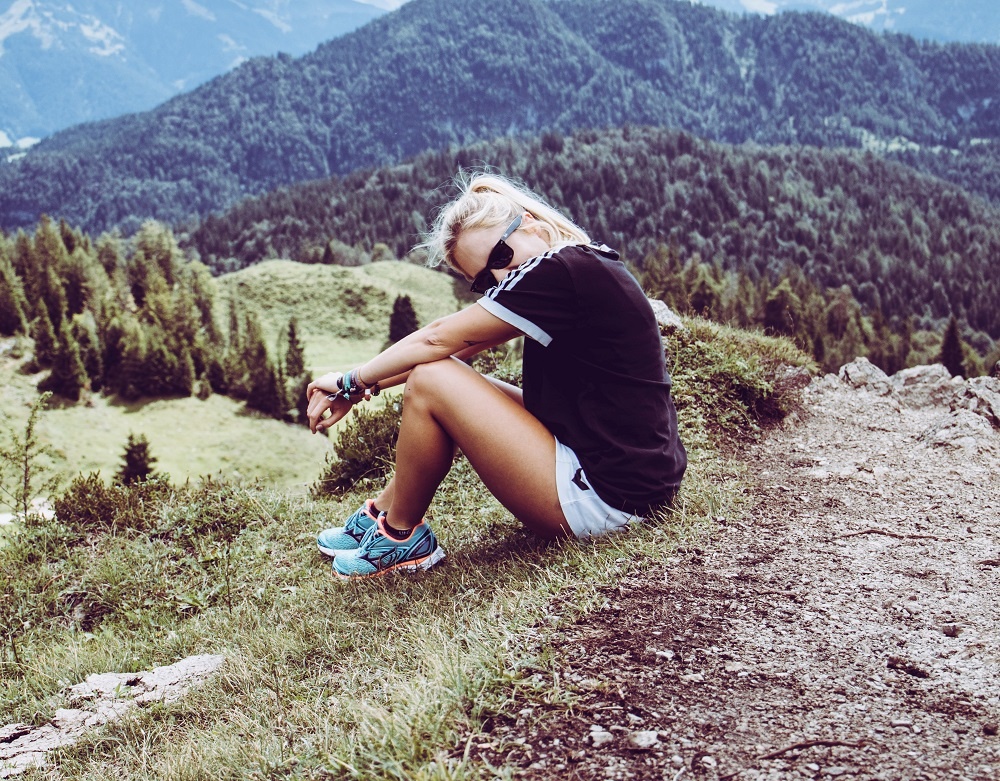 If you have a hiking date planned, you may be wondering, "What should I wear on a hiking date?"
Fortunately, most guys don't care what women wear on an active date! A guy that likes you will think you are sexy no matter what.
But, you can amp up your sex appeal by wearing a cute hiking date outfit.
What to Wear on a Hiking Date – Outfits for Women
Continue reading for hiking date outfit ideas.
Hiking Date Outfit Ideas During Summer
Here are some ideas on what to wear on a hiking date in the summer.
1. Skirt with Shorts – The Perfect Hiking Date Outfit
Why wear shorts when you can wear a cute skirt with pockets? This skirt on Amazon gets great reviews. Find more reviews of tennis skirts from The Jeans Fit on YouTube and online.
2. Workout Shirt for Girls to Wear on a Hiking Date
Amazon sells great worktop tops for hiking, the gym, and running. This mesh racer back tank is great for hiking and working out.
3. Leggings for a Hiking Date – Outfit for Fall Date
Guys have a thing about women in leggings. Guys LOVE girls in tights. This pair of leggings by 90 Degree on Amazon is less than $30 and has pockets!
Check out this detailed review of the 90 Degree Leggings by Reflex from The Jeans Fit.
4. Cute Jacket/Hoodie to Wear for a Hiking Date Outfit – Fall
Wear a warm and cozy jacket with pockets for hiking dates in the fall.
5. Women's Shoes to Wear on a Hiking Date
You don't need to wear clunky-looking, brown hiking shoes if you are going less than 10 miles. Just wear normal running shoes. For a detailed review of running shoes, check out this article by The Jeans Fit.
6. Backpack for a Hiking Date
A simple light-weight backpack to carry your water, phone, and snacks is always a good idea.
Hiking Date Makeup Ideas
If a guy is asking you on a hiking date, he probably wants to see you in a natural makeup look!
Here is my go-to list of hiking date makeup to wear.
Hiking Date Makeup Ideas
Light pink or nude-colored lipstick
Get more makeup ideas and makeup tips for active women from Very Easy Makeup.
What to Pack on a Hiking Date – Packing List for Her
If you are going on a daytime hike with a guy, make sure to pack these items.
Things to Pack on a Hiking Date
Food to Pack on a Hiking Date
It never hurts to pack healthy snacks for a daytime date hike.
You can buy these hiking snacks online from Whole Foods online and have them delivered to you. (How convenient!)
Snacks to Pack for a Hike
Connect with Dating Snippets
Did you find this article helpful? Please share it on Facebook or Twitter and give it 5 starts below!
Please subscribe to the Dating Snippets YouTube Channel!
Check out these pages from Dating Snippets for dating tips, COVID date ideas, dating advice, and first date tips!
Follow Dating Snippets on Facebook
Dating Snippets on Pinterest for first date clothing ideas for guys
What to Wear on a Date from Pinterest
Get to Know Dating Snippets on Instagram
Interested in Women's Fashion or Fitness?
If you are interested in women's fashion and beauty, or women's fitness and health check out these two amazon blogs!
Very Easy Makeup – Beauty and Fashion for Women
The Jeans Fit – Health and Fitness for Women
Enjoy your hiking date with your guy!!!
Christina Marie from Dating Snippets (a girl who loves sharing her dating tips and date night ideas for singles living in Atlanta)
(This article contains affiliate links. View the affiliate disclosure here.)