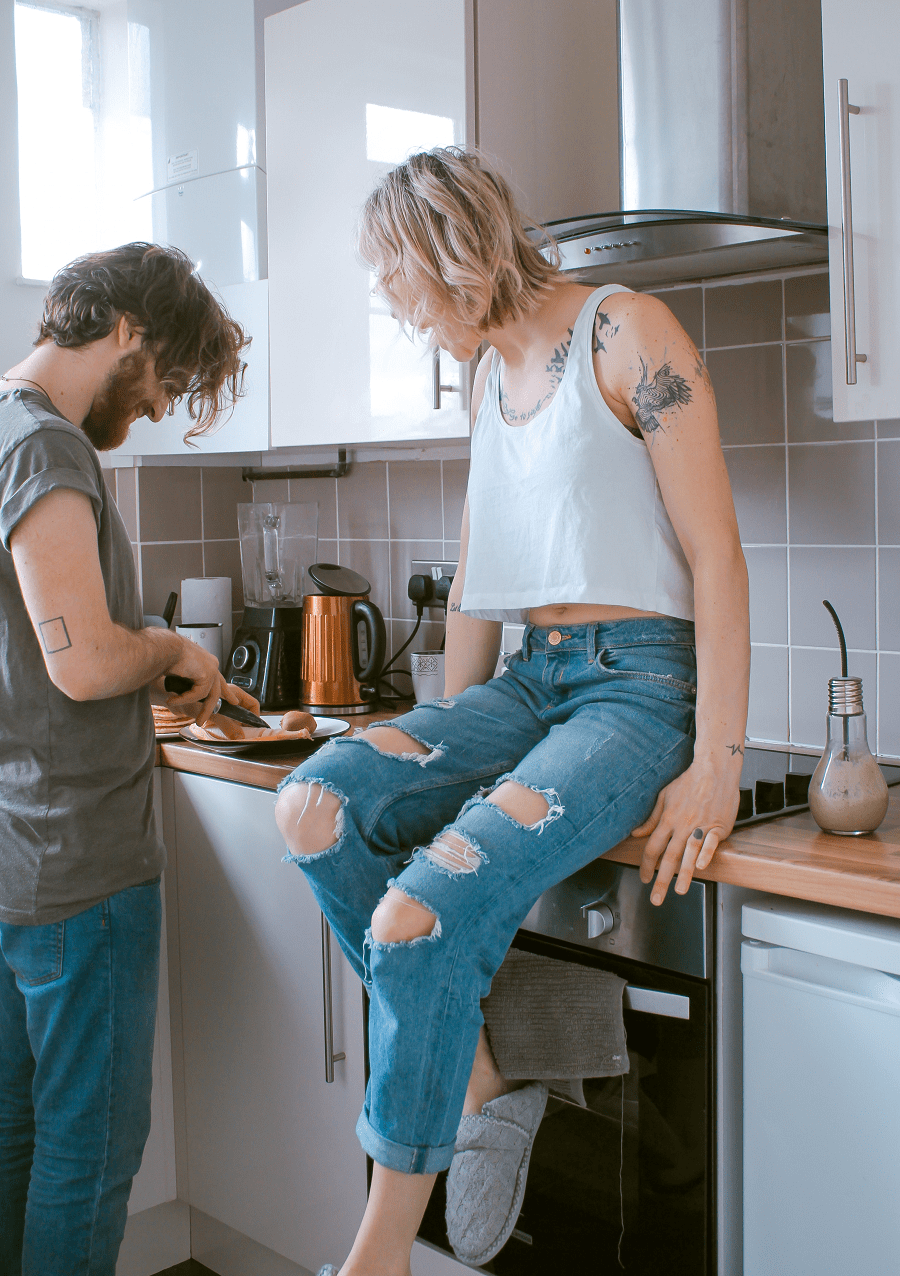 It's easy to plan an outdoor date in the summer during coronavirus. For example, you can easily play a friendly sport (like tennis), go on a picnic, or do another outside activity.
But what should you do if you need to plan an indoor date? What if it's cold or rainy outside? What if the bars and restaurants are shut down?
10 Simple Indoor Date Ideas at Home – Coronavirus Edition
Continue reading for 10 simple indoor date ideas at home.
1. Cook Dinner Together for a Romantic Indoor Date
If you know your date well enough (save cooking together for a 3rd date or later), go ahead and cook dinner together!
Not sure what to buy for a dinner? Have Whole Foods deliver your food ahead of time.
Food for an At-Home Dinner Date
Just add these items to your Amazon/Whole Foods cart.
Fresh Atlantic Salmon
Baked Potatoes
Sour Cream
Broccoli
Lettuce
Salad Dressing
Fresh Strawberries (for Dessert)
Ice-Cream/Gelato
2. Play Cards as an Indoor Date Idea
People used to play cards all the time. Now it seems to be a pastime.
Indoor Date Ideas
Get out an old deck of cards and play a game of Rummy or Cribbage.
Cribbage Board on Amazon
Playing Cards
3. Play Board Games with Your Neighbors
There's nothing wrong with a double date! Double dates are an underutilized date idea.
Invite your neighbors over and play party games with your date.
Best Party Games for an Indoor Date
Make sure to order appetizers and snacks too!
Cards Against Humanity
Catch Phrase
Codenames
Taboo
Say Anything
I personally love Say Anything as a party game. It's a great way to get to know people!
3. Watch a Movie Together
Okay…so it's not original, but you can always watch a movie together.
Check out tip #5 in this article for tips on how to rock a movie date.
4. Make a Dessert Together if You Are Stuck Inside
Even if you aren't a big dessert person, it can still be fun bake a cake or cookies!
Dessert Recipes to Make with Your Boyfriend or Girlfriend
These recipes looked like fun!
5. Read Each Other's Astrological Sign
I don't believe in astrology or horoscopes, but it can be fun to read!
Read your date three "descriptions" of three different astrological signs. Then, ask your date which one they think is them. It's a fun way to see how accurate (or inaccurate!) astrological signs are.
There are tons of free websites online. Or, you can buy a simple astrological book on Amazon for less than $10.
Top Rated Astrological Books
Buy these books for fun reading on rainy days.
6. Work On a Puzzle Together While Sipping Wine
Have Alexa play some jazzy music, open a bottle of wine, and work on a puzzle together. Because…why not?!
Fun Puzzle for an Indoor Date Night
I'm not a puzzle person, so I'd recommend NOT doing the 1,000-piece puzzles. Choose a 500 piece puzzle or less!
500 Piece Jigsaw Puzzle
7. Do a Craft Together – Pretend to Be Kids on a Date!
Who says that crafts are only for kids?
Indoor Date Night Ideas – Crafts for Adults & Couples
Why not do a fun kid's craft as an indoor date idea?
Sand Art
DIY Candles at Home
Rock Painting Kit
Make Your Own Soap
9. Do a Holiday-Related Craft Together
Like #8 above, why not do a holiday-related craft together?
Indoor Date Night Ideas for Couples to Do in the Fall
If it's fall, carve a pumpkin or find a Halloween-related craft online from Amazon.
Halloween Wreath Decoration
Pumpkin Painting Kit
10. Strip Poker as a Crazy Indoor Date Idea
And if all else fails…have your liquid courage and just play strip poker. (LOL!)
Related Articles with More Date Ideas by Dating Snippets
Did you find this article helpful? Please share it on Facebook or Twitter and give it 5 stars below!
Check out these related articles too!
Connect with Dating Snippets!
Leave a comment below and connect with Dating Snippets on social media.
Subscribe to Dating Snippets on YouTube
Connect with Dating Snippets on Facebook
Have a fun date!
Christina Marie from Dating Snippets (a dating and relationship blog for men and women)
(This post may contain affiliate links).