Looking for the best first date dinner date restaurants in Inman Park? I've got you covered. Below are three awesome restaurants for a dinner date in Atlanta if you live or work in Inman Park.
Beetlecat – Awesome First Date Dinner Spot in Inman Park
Beetlecat is a fantastic first date dinner choice in Atlanta. Located at the corner of North Highland Ave NE and Elizabeth Street in Inman Park, Beetlecat is a relatively new restaurant with oysters, globally inspired appetizers, and great entrees.
How to Make Beetlecat an Awesome First Dinner Date Experience
To make the most of your dinner date at Beetlecat, I'd recommend the following:
Start off the night with drinks. Beetlecat offers great wines and drinks.
Order the oysters. At least three different kinds, and two of each kind. Ask your date which type of oyster she likes the most. Can you even taste the difference? Make a game out of it.
Share two appetizers. I love the octopus and the kale salad the most. Trying the squid might make the date fun too.
Let your date pick her entrée. You don't want your date to go hungry! The salmon is my favorite entrée at Beetlecat, followed by the Redfish.
Tip for a dinner date at Beetlecat: Sit at the bar!
Beetlecat is a great restaurant for groups, but their tables for two are squished super close to each other. Ask your date if she would like to sit at the bar. You'll actually be able to hear your date, and it makes a first date more casual. It's also easier to make physical contact with your date when you are sitting next to each other versus sitting across a table.
Superica – Fun, Casual Dinner Date Spot at Krog Street in Atlanta
Superica is a great first date dinner choice. Superica has a casual, fun atmosphere and amazing Mex-Tex food. Plus, Superica has 8 different kinds of margaritas, three salsas to try, and delicious enchiladas, quesadillas, and salads.
Suggestion for an amazing dinner date at Superica in Inman Park: Order a Margarita and Guacamole!
Superica is a dinner date place in Atlanta where you definitely need to order a margarita. If you are feeling wild, ask for a spicy margarita with salt. Order the guacamole too.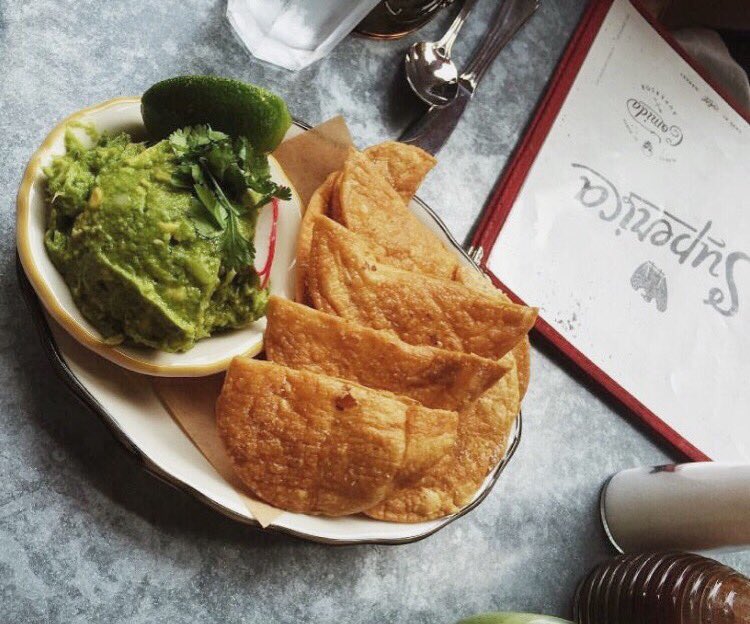 Everyone loves guac!
Fritti – Affordable, Delicious Date Night Restaurant in Atlanta
Fritti is my top pick for a first date dinner spot in Inman Park. Fritti is an Italian restaurant with a solid collection of wines, delicious bruschetta, healthy salads, large pizzas, and salmon and tuna skewers. Fritti is a solid first date spot because you can easily get a table without a reservation. My favorite choices at Fritti are the Bresaola di Tonno as an appetizer, the Tonno salad or Rucola salad with salmon for a salad, and the salmon or tuna skewers.
An added bonus is that the tables for two are located right near the window and they aren't scrunched up next to each other.
I love Fritti because it is both a casual restaurant and a romantic restaurant spot in Atlanta. It can also be quite affordable or expensive, depending on how much you and your date order. If it's summertime, ask to sit outside at Fritti for your dinner date.
Tip for Fritti as a Dinner Date Spot in Atlanta: Go to the Bar After Dinner!
Fritti has an amazing bar that is a hidden gem. After your meal, ask your date if they want to get a second (or third) date at the bar. The bartenders at Fritti are fun, and the bar is a great way to extend a first date. Plus, when you are sitting next to your date – you can find an excuse to touch them or get close to them to increase the physical chemistry.
Tips for Choosing a First Date Dinner Place
If you are planning dinner for a first date in Atlanta, make sure to follow these pieces of advice:
Make a reservation ahead of time.
Avoid restaurants where the tables are too close to each other. I love Barcelona in Inman Park for drinks, but I hate it for dinner. The tables are too close to each other; you won't be able to hear your date.
Choose a restaurant that is close to where your date lives.
Ensure the restaurant offers food that meets your date's dietary restrictions.
Good luck dating!
Christina Marie from Dating Snippets <3