Want to know the best way to meet singles in Atlanta, GA? I'll share a secret with you. It's not on the dating apps like Hinge or Bumble. Yes, you can meet singles on dating apps, but you'll like have better luck meeting guys and single females in person. Want to know how to meet singles in Atlanta, GA? Below are the top four places to meet singles.
1. Atlanta Sport and Social Club: Easy Way to Meet Active Singles in Atlanta
I joined Atlanta Sport and Social Club when I first moved to Atlanta. I worked in downtown Atlanta and signed up for the beach volleyball leagues at Piedmont Park. I've met so many great single men and women through volleyball, and they are one of my closest group of friends today.
Added bonus: The ratio of single men to women in the sports leagues tends to be 50/50, and everyone is outgoing, active, and friendly.
If beach volleyball isn't your thing, Atlanta Sport and Social Club also has basketball, flag football, soccer, and kickball leagues.
Want tips on choosing which Atlanta Sport and Social Club sports league to join? Here's an insider tip.
Bar Games. The Atlanta Sport and Social Club Bar Games league is great if you are under 25 years old and looking to meet singles. If you are over the age of 30, this probably isn't the league for you.
Kickball. Great for everyone.
Flag Football. Very competitive. Make sure you are serious about flag football if you sign up.
Beach volleyball. If you are new to volleyball, sign up for the recreational league to meet singles.
There is also Go Kickball in Atlanta. Go Kickball tends to be a little bit more competitive than kickball through Atlanta Sport and Social club. It may also be better organized.
Buckhead Church and Canopy: Best Place to Meet Religious Singles in Atlanta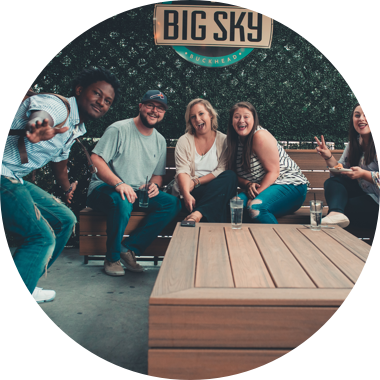 I'm personally not particularly religious, but I have many friends who go to Buckhead Church and love it. Buckhead Church runs an amazing group called Canopy in Atlanta for singles to meet each other.
I signed up for two of the events through Canopy and was thoroughly impressed with how well run the groups were. Everyone was super friendly and welcoming. The social events and get-togethers through Canopy weren't awkward at all.
I found Canopy to be a great place to meet singles in Atlanta because it is:
Organized by age. It's arranged by age group, so you don't have to worry about being a 24 year old in a group of 42 year olds.
Organized by geographical location. Traffic in Atlanta can be a pain. Canopy had the groups separated by geography. So if you live within the perimeter, you can find a group that is within a 20 minute drive of where you live.
Canopy doesn't cost to join. If you join a group that is focused on getting brunch, you'll have to pay for your meal – but there is no fee to join.
Well organized. Each canopy group has 2-3 group leaders who organize each event. They were on-time for each event, communicated the activities clearly, and made sure everyone had a name-tags and felt welcome. They were great hosts!
Organized with Even Male to Female Ratios. Canopy puts a cap on each group, so you are guaranteed to have the same number of single men and single women in each group.
Diverse in Its Offerings. I signed up for the two active Canopy socials. One was Olympic Games and other activities at Piedmont Park. If you aren't into active social activities, Canopy offers groups that get lunch together.
In summary, if you are religious in Atlanta and searching for a good place to meet singles, check out Canopy and the other events for singles at Buckhead Church.
Community Bucket: Awesome Way to Meet Singles in Atlanta
Community Bucket is an amazing way to meet kind-hearted singles in Atlanta. One of my friends hosted an amazingly fun event to Shoot the Hooch in Atlanta, and everyone that was there had met through Community Bucket! Community Bucket also holds a special place in my heart, as it was founded by a classmate at Emory.
The events at Community Bucket usually happen on the weekend. You sign up, do community service for 3-4 hours, and then to a social event together that usually includes free food and drink.
Make sure to follow Community Bucket on their Facebook page too, and to sign up for their events as soon as they are posted. They fill up quickly!
There Are Many Places to Meet Singles in Atlanta
There are many ways to meet singles in Atlanta. How do you meet singles in Atlanta? Put yourself out there and join a group!
Want to discover how to meet more singles in Atlanta?
Subscribe to the RSS feed on DatingSnippets.com to get alerts when new articles are posted. I'll be writing another article on the best single Meetup groups in Atlanta and the best bars to meet singles in Atlanta.